---
This page was written for Relay beginners, but if you're looking for a refresher course, please read on. Be sure to click on the underlined links for more information on specific subjects.

If you're pretty seasoned, you might just need our Rules and Regulations page.
If you need any other information, just write to info@scvrelay.org!

Recently updated information is highlighted in yellow.
---
About Relay
Relay is 24-hour Team event where each team has a member walking the track for the entire 24 hours. You may participate in the ev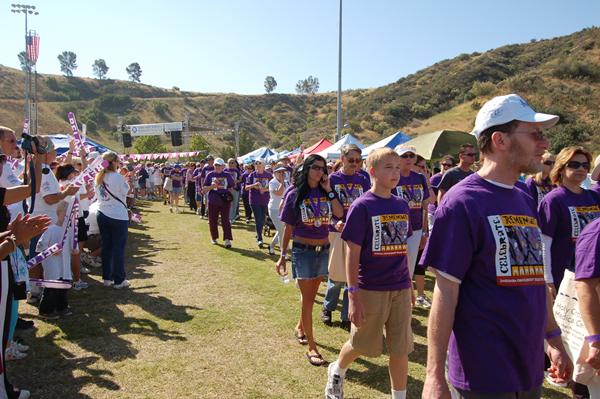 ent as an individual, not tied to a team, but to experience Relay at its best, being part of a team is recommended. To sign up, go to our online site or print and mail the registration forms from our Forms page.
Relay Teams have a Team Captain and sometimes Co-Captains, too. The Captain coordinates the Relay Team, distributing information and attending Team Captain meetings once a month. We love our Team Captains!
Each Team Member is encouraged to raise $100, but don't worry--we provide lots of help! Our online site has wonderful e-mail and address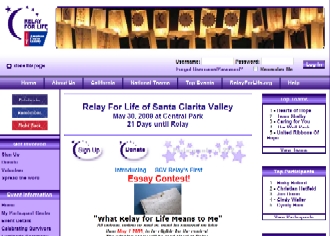 book tools with donation request letter templates, and our SCVRelay.org site has fundraising ideas for both Team Members and Team Captains! Team fundraisers are booked all year--check out our Relay Calendar!
This year is Relay For Life's 25th birthday! Twenty-five years of supporting the efforts of the American Cancer Society. Happy Birthday Relay!
Pre-Event Registration:
Participants that sign up online are automatically registered. This is the easiest way to register and we encourage you and your Team Members to register this way. If you have not registered online, you must sign a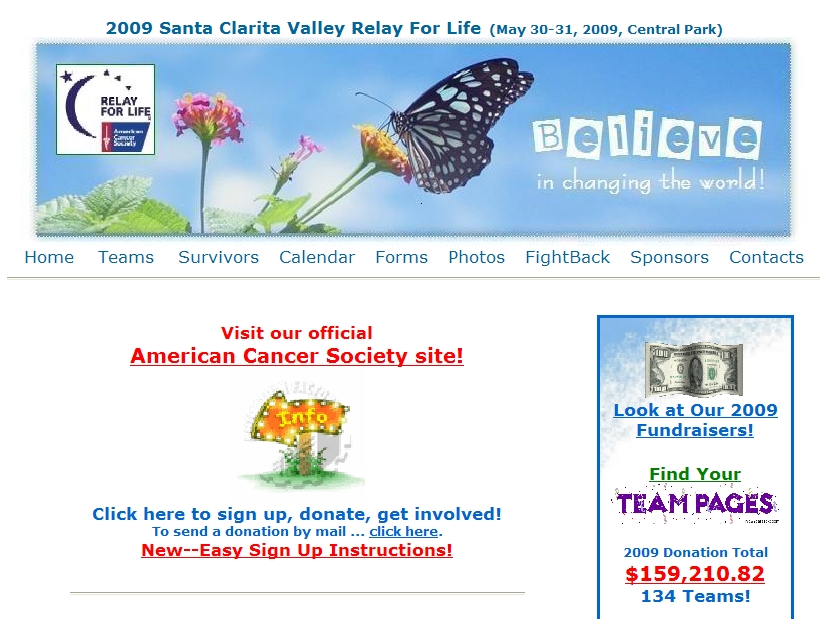 paper waiver, available from our Forms page or from the ACS office. EVERYONE who comes onto the event property MUST sign a waiver. We ask that Team Captains have enough waivers on hand at their campsite to supply all your Team Members and visitors. Please instruct anyone who is coming to Relay for your team to proceed to your campsite to sign their waiver. Otherwise they may have to wait in long lines at the Registration Booth.
Anyone under 18 must have a waiver signed by a parent/guardian. Printable waivers are available online on our Forms page. Note: There is a special form for families and large groups and a special form for youth chaperones.
Campsite Selection Night:
You will be able to select your campsite location at our Campsite Selection Night on May 14th at the ACS office. This is a really fun night for those of us on the Relay Committee because we get to meet all the Team Captains individually! When you come to the office, you will be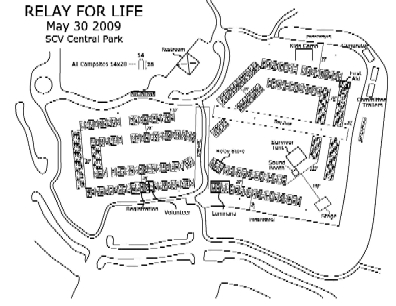 greeted by a host and then ushered into the selection room at your appointed time. Be prepared at that time to pick your site! We will have the campsite map available so you can scope it out before you go in. Everyone has their own reasons for picking where they want to be located--it's quite entertaining!
While you're at the office, we encourage you to drop off donations, purchase Luminaria Bags, food tickets (required to purchase food at Relay), and bring up any questions you have. Our Fight Back Chair will also be on hand to discuss your Team's plans for having a Fight Back topic at your campsite. Many other Relay Committee members as well as some of the Captain's Council will be available. Campsite selection appointments start at 6:00 p.m. and end around 8:00 p.m. If you have not received your time yet, please contact Stacy Kupfer at Teams@scvrelay.org or your Captain's Council member.
Donation Instructions:
On Relay day, every single cent collected MUST go to the American Cancer Society. This means, for example, that you may NOT take $50 out of the money you raise today to pay for the items in your raffle basket. All checks must be made out to the American Cancer Society and all money collected must be turned in at the event.
Retailers may not sell their wares/services at Relay, unless 100% of the cost goes to the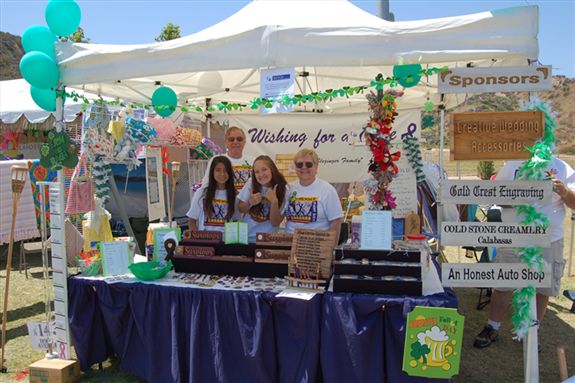 American Cancer Society. Also, they cannot give out discount coupons. They may, however, have brochures or giveaways at their team campsite, as long as it's done in the spirit of expressing their support of Relay and/or the American Cancer Society. We want Relay to be about supporting the cause.
On Relay day, our Security Team will be coming to each campsites to pick up money at scheduled intervals. Do not bring donations to the Registration Booth this year. If you need change during the day, contact a Captain's Council member or any other Relay Committee members (in red shirts) and they will ask the Accounting Team to come to your campsite.
For more information, see our Donation Instructions page.
Campsite Setup (Friday):
Our event takes place at Central Park on May 30-31. Teams may set up their campsites from 2:00 pm until 8:00 pm on Friday night. There is no camping Friday night, but we will have security on site to watch your things. Most teams bring their raffle/sales items on Saturday morning, just to be safe.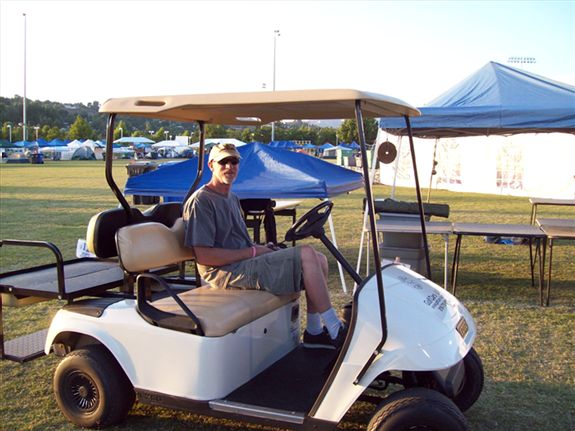 Parking Friday night is usually no problem, but we ask that you use the drop-off zone for dropping off only. We will have event staff available to help deliver supplies to your campsite on a first-come, first-served basis.
Campsites are 14' wide by 28' long (28' wide by 28' long for two campsites side-by-side). Most sites use popups to provide shelter from the sun, as well as one or more tents for the night. If you are going to rent popups and/or tents that will be delivered to the event, you must use A-1 Rentals or AV Party Rentals, as both companies have submitted the proper insurance paperwork. A-1 Rentals is offering a 15% discount with free delivery. Click here for important details on renting tents.
We will have food vendors at Relay, but because of the large number of attendees, we recommend that you bring some food of your own. Food may NOT be sold at Relay, unless it is commercially packaged in individual packages. For example, you may not buy Costco cookies and sell them individually, even if you put them in plastic bags. However, you may sell individually packaged Famous Amos cookies, as long as the packages remain factory sealed. The same with drinks ... you may sell cans of soda, but you may not sell glasses of ice tea. Sorry, we don't make the rules!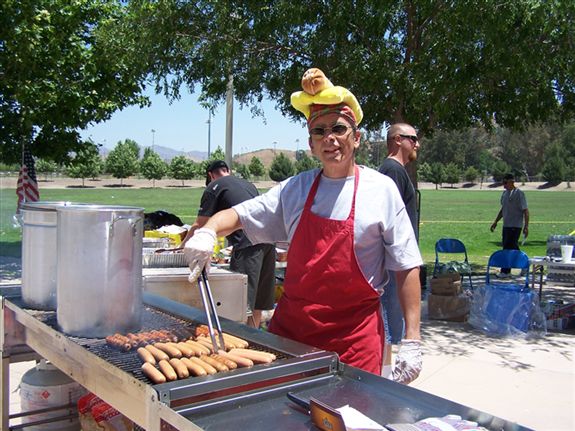 Food may be purchased from Relay food vendors by buying food tickets for $1 each. Tickets will be available at Campsite Selection Night on the 14th, the May 19th Team Captain meeting, and at the Event.
Other helpful things to bring: Water (we will have bottled water available for free), warm clothing for the night (it can get VERY cold), a hat to keep the sun off your head, sunscreen (some teams have this as giveaways), and flashlights, of course! Power is not available and generators are not allowed! You will be roughing it!
Remember, NO open flames - lanterns, stoves, candles. No dogs (except guide dogs, of course). No alcohol, even in raffle baskets.
Some tips from seasoned Relayers: Bring some old towels on Saturday morning, as there will be a layer of dew on things. Bring address labels--they will save you tons of time when entering raffles!
Day of Event (Saturday):
Parking during the early morning hours will be limited, due to the many people setting up camp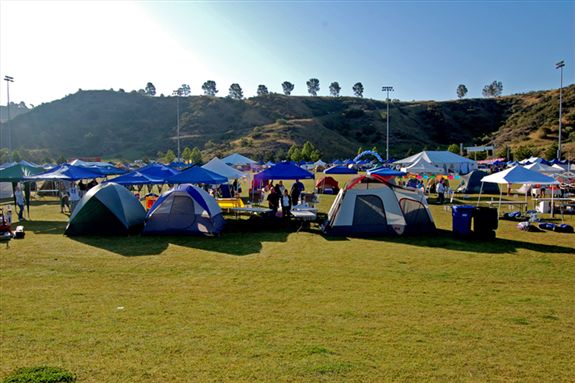 and arriving for the Opening Ceremony. Please drop your gear in the drop-off zone and then move your car to a regular parking spot. Please do not leave your car in the drop-off zone or park in handicap parking. Event staff will be available to help with deliveries to your site on a first come, first served basis. Please be patient. Overflow parking is available on Bouquet Canyon and at Saugus High School (parking is available all day but shuttles will not be running until evening).
EVERYONE entering the event is required to sign a waiver, whether they are walking or just visiting. Team members who have not registered online should sign a paper waiver and turned it into their Team Captain prior to the event. Anyone who has not registered online or turned in a signed waiver to their Team Captain must register at the Registration Booth located near the entrance. Waivers may be downloaded from the Forms page before the event to speed up entry. Team Captains should get as many signed before the event as possible! We recommend registering online to avoid long lines at the event. (Updated 5/19)
Survivor Village, located across from the stage, will be serving a continental breakfast for Survivors and their caregivers starting at 7:30 a.m. Survivor t-shirts and medallions will be distributed before Relay begins. Survivors are invited to place their hand prints on our Wall of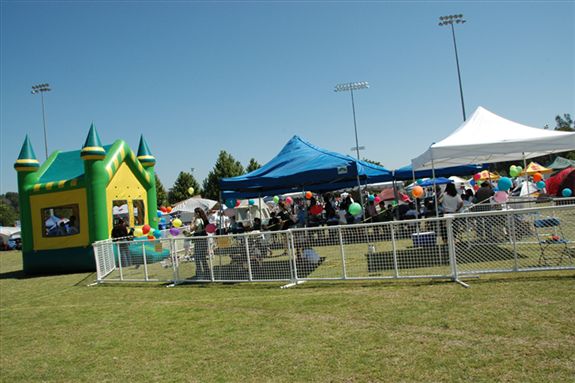 Hope, a Relay tradition! After the Survivor Lap (mentioned below), Survivors are encouraged to return to "The Village" for a reception, free raffles, and a silent auction.
Kids Camp is a fun place where kids can play in safety throughout the day. Children are checked in using an ID bracelet system and only the parent(s) who checked them in may retrieve them. Parents MUST have a picture ID. Kids Camp opens at 8:00 a.m. and closes promptly at 5:00 p.m. An announcement will be made before closing.
Relay starts with our Opening Ceremony in front of the main stage at 9:00 a.m. The ceremony will be short, about 15-20 minutes, and then we begin the Survivor Lap. Our Survivors are our VIP's and we honor them by standing around the track and applauding as they walk by. This is an emotional high point for Relay!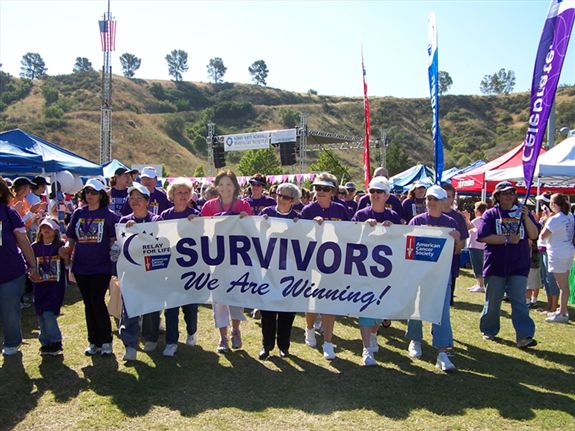 Immediately after we begin the Team Lap, with each team walking with as many team members as they can muster. Teams will be announced as they begin their lap and we encourage them to have a banner to identify their team. As each team finishes their first lap, they will go into the center of the field to have their team pictures taken.
Relay For Life is a 24-hour event ... there should always be a member of each team on the track at all times, even in those wee hours of the morning! To help schedule walkers, print out our Walker Sign Up Sheet.
After the Team Lap, we get down to Relay business. Teams will have all their raffles, games, sales, auctions, etc., ready to go. Games are scheduled starting at 10:30 a.m. in our center field and our main stage musical entertainment begins at 11:00. For a schedule of games and music, see our Event Schedule. Our Relay Store is open for your shopping pleasure, with loads of Relay Gear and fun stuff. Cash, checks, and credit cards are accepted.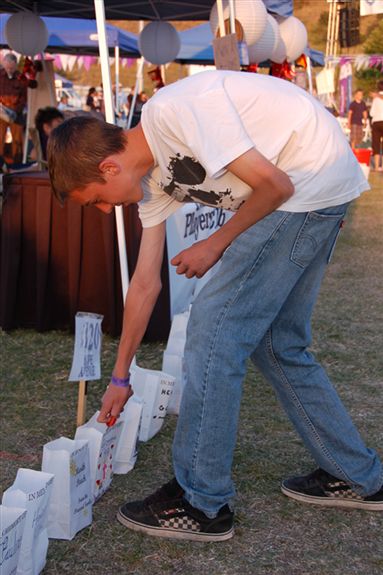 In the early evening Relayers will see volunteers setting up the thousands of Luminaria that will line the track during our Luminaria Ceremony. (For information on purchasing Luminaria, click here.) Relay attendance swells just before this ceremony, as it is the highlight of our event. Unfortunately, this creates a parking challenge, so we have arranged for all-day parking at Saugus High School with shuttles running between the lot and the event entrance from 6:00 p.m. to 11:00 p.m. Please let any guests arriving during this time know about the shuttles.
At 9:00 p.m., our guest Luminaria Speaker will inspire us all, followed by our new Luminaria Slideshow, where you can share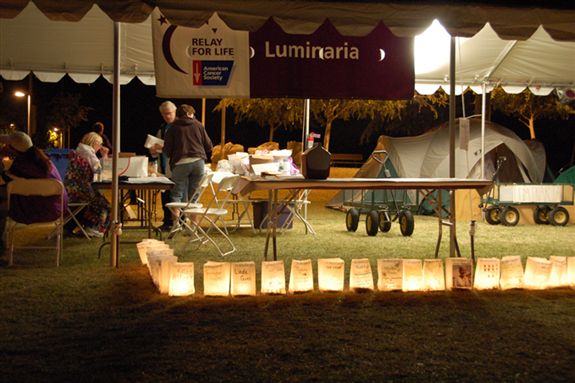 photos of your loved ones affected by cancer. As the slideshow runs, thousands of participants walk the track, led only by the light of the Luminaria Bags. A reverent hush falls over Relay during this time, an amazing experience.
Our main stage entertainment continues until midnight and several contests and games are scheduled throughout the night. Although the tempo of Relay slows at night, as many people try to get some sleep, we encourage our Teams to have all night activities, to help spur on the walkers who have signed up for those early morning hours. Rumor has it our Captain's Council will be watching for the team with the best over-night activities! But shhhhhh ... some people are sleeping!
Final Day (Sunday):
Wake up in the morning with our Fight Back Pancake Breakfast, served by the Rotary Club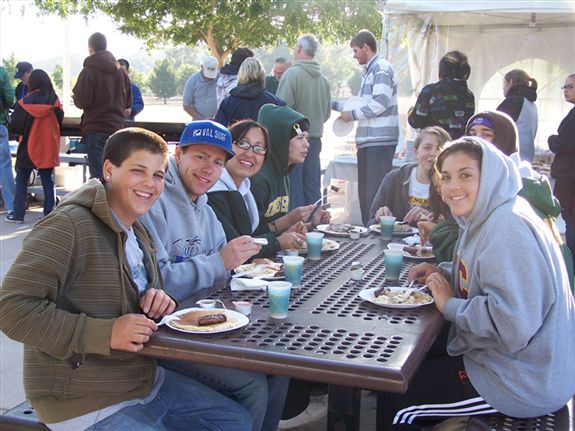 beginning at 6:30 a.m. in the food court. We will again this year have our 24th Hour Raffle, only for those present at the 24th hour of Relay (by 8:30 a.m. Sunday) Watch for the ticket bearers Sunday morning (18 and older only)!
Our Fight Back Ceremony begins at 8:45 a.m. and inspires Relayers to keep up the fight even after Relay is over. Following the 15-minute ceremony, Teams take the track for their final lap, proudly displaying their team banners. This is the official end of Relay 2009 and campers return to their sites to break camp. (Please do not start camp breakdown until Relay is over!)
For More Information
Check out our Relay 2008 photos to see what our event looks like. It will be larger this year, of course, and we will have a different campsite layout (campsite map coming soon).
More questions? Don't worry, we're happy to help! Contact any of your Relay Committee or your Captain's Council members. See our Contact page for e-mail addresses. And thanks for joining our Relay Family!
---