Survivor Information
---
To access
last year's Survivor site,
click here.
---
Survivorship Chairs:
Darrellyn McCormick
Cheryl Adams
---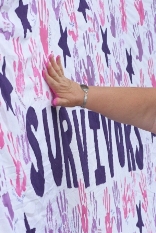 See Photos of Our
Third Annual Survivor Breakfast!
Thursday,
April 23, 2009
at TPC Valencia
Sponsored by the American Cancer Society
Relay For Life and
the Hughes Family Foundation

Visit our official
American Cancer Society site!


Register as a Survivor now!
Or to send your registration by mail ... click here.

---
All Survivors are invited to join us for
the Honorary Survivor Lap at the
2009 Relay For Life of the Santa Clarita Valley
9:00 AM, Saturday, May 30, 2008, at Central Park.
---
We are honored to have our Survivors walk the First Lap of this 24-hour event.
The event will begin at 9 a.m. on Saturday and continue until 9 a.m. Sunday. The Survivor Lap starts right after the opening ceremony, which begins promptly at 9 a.m. Saturday. Please arrive between 7:30 and 8:30 a.m. to sign in and to receive your complimentary survivor shirt, medal, and goodie bag. Enjoy a continental breakfast and share time with other survivors.
Survivor Village
Sponsored by Casa Automotive Group and A-1 Rental
Event Day Schedule
7:30 AM
Check In and Registration
Continental Breakfast
Provided by The Hyatt and Bagelboys
Wall of Hope
T-shirts and Medallions Distributed
9:00 AM
Opening Ceremony Begins
9:15 AM
Survivor Lap
10:00 AM
Survivor Reception and Raffles
---

For more information, write to
Survivors@SCVRelay.org
or call
661-298-0886, Option 3.

---