This is the history site for our 2010 Relay.
Go to the new 2011 Relay site by clicking here!











For info/help:
info@scvrelay.org

website-hit-counters.com
Copyright
© 2010
SCV Relay For Life
See
Disclaimer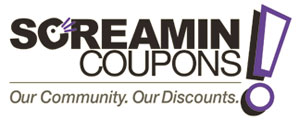 ---
The Scoop.
When you join Screamin Coupons' online community of power savers, you become an official "Screamer". As a Screamer, you get discounts galore from a huge variety of local merchants. We're not just talking $1 off a club sandwich. We're talking 50% - 90% off products and services that will fill your heart with glee—life's little extras that are always tough on the wallet, like concerts, classes, museums, and more!



Daily Deal.

Screamers get the opportunity to purchase one hot, new deal each and every day. These daily deals are offered by local, top-of-the-line merchants who want to share their exceptional products and services with people like you.

(Please note that you must use the certificate in one visit. There is no balance to carry forward. In other words, if you only use $8.50 of a $10 restaurant certificate, you will not get the remaining $2.50 back. So, bring a friend and use it all! Please read the deals carefully to be sure it's right for you.)



Ticking Clock.

Daily deals are good for 24 hours. Yep. That's it. That means you gotta get a move on to take advantage of super savings. A new Daily Deal is offered each day at 12:01 AM, and then the clock starts ticking until the deal expires—at midnight. If ya wanna get technical, you have exactly 23 hours, 59 minutes, and 59 seconds, and then it's done! So, when you see a deal you want, take action! Time flies and the same deals don't come back. You get one time, one shot. As soon as one Daily Deal expires, a brand new one begins.



Easy Signup.

Simply go to www.ScreaminCoupons.com and register. They will immediately send you an e-mail to activate your account. Once activated, go to the "My Account" section and click on the field for "Community Rewards Beneficiary". From that page, select "Santa Clarita Valley" for Region, "Non-Profit" for Type, and American Cancer Society for Non-Profit. Be sure to click on "Save Account Detail" when you are finished.



Relay Wins.

When you choose ACS as your beneficiary, ACS will be credited 5% or 10% for all certificates bought on Screamin Coupons. Plus, every time a Screamin Coupons member refers a person (use the link on your "My Account" page) and that person registers, the referring member gets a $10 credit. That member can do whatever they want with their credits. They can buy Screamin certificates and use personally --- or they can buy Screamin certificates to use for their team's fundraiser auctions/drawings!

The more people "Screamin" deals and getting new members to sign up with ACS as their charity, the more money for our cause! So tell your friends, send out those referral links, and buy your favorite Screamin Coupon today!
Note: This fundraiser qualifies for the Team Captain Fundraiser Raffle held each month at the Team Captains meeting (see the Team Page for raffle details). Just bring in a copy of a coupon. Maximum three raffle tickets per team per month for this fundraiser.