Comments from Friends:
---
John Fortman, 2009 Event Chair
"Darrellyn was a hard worker on our committee and instituted the idea that Survivor Village should be a little more than just a comfortable place for cancer survivors at Relay For Life. She was tireless, hardworking and smart and our committee is diminished without her."
---
Teresa Kerr, SCVRelay.org Chair

"I remember when Darrellyn first came to Relay, so excited and full of life ... ready to make a difference. And make a difference she did. Survivor Village will be forever changed by her vision. Thank you, Darrellyn."
---
Cheryl Adams, 2009 Survivor Village Chair
"I first met Darrellyn last year at the Team Captain Wrap party. I sat down next to this lady who introduced herself, and we exchanged survivor stories. Before I knew it, she had me signed on into helping her with Survivor's Village for 2009. Even though she was unable to attend this year's Relay, she had plenty of ideas for what should and should not be done at the Village. What I will remember most is the wonderfully positive outlook she had on life. She was a true inspiration to all of us cancer survivors and will be truly missed."
---
Candace Wells, 9 Year Survivor, Relay Store Chair
"I was saddened so hear of Darrellyn's passing. Although our paths just started to cross, I will always remember Darrellyn's humor, laughter and her courage. Darrellyn, your presence will be missed. My thoughts and prays to your family."
---
Nathan Crookston, Survivor & 2006 Luminaria Ceremony Speaker
Dear friends of Relay and most importantly, Darrellynís family:
I had the good fortune of working with Darrellyn in the 2008 Relay as the Youth Cancer Survivor Ambassador. Working with Darrellyn was very fun and it was a real honor to work with her. She was very kind and knowledgeable. She was like another grandma. Iím grateful that I had the wonderful opportunity of knowing her. When Donna Ashmore gave me a video game called Re-Mission that was about fighting cancer, Darrellyn wanted to make sure it was appropriate for me and other youth survivors before she would let me play the game. She wanted to make sure it wasnít too violent before I played it. She took it home and I think she forgot about it because she never got back to me about it. Oh well, I knew that she was concerned about me and other youth. This is how she was like another grandma.

Darrellyn always wanted to make other people happy. She wanted to make sure that every single survivor at Relay had enough sunscreen, shade, water, you name it. Iím sure that the 2008 Relay will be one of the best Relays I will ever have. Iím grateful that I was able to know her.

Her young friend,
Nathan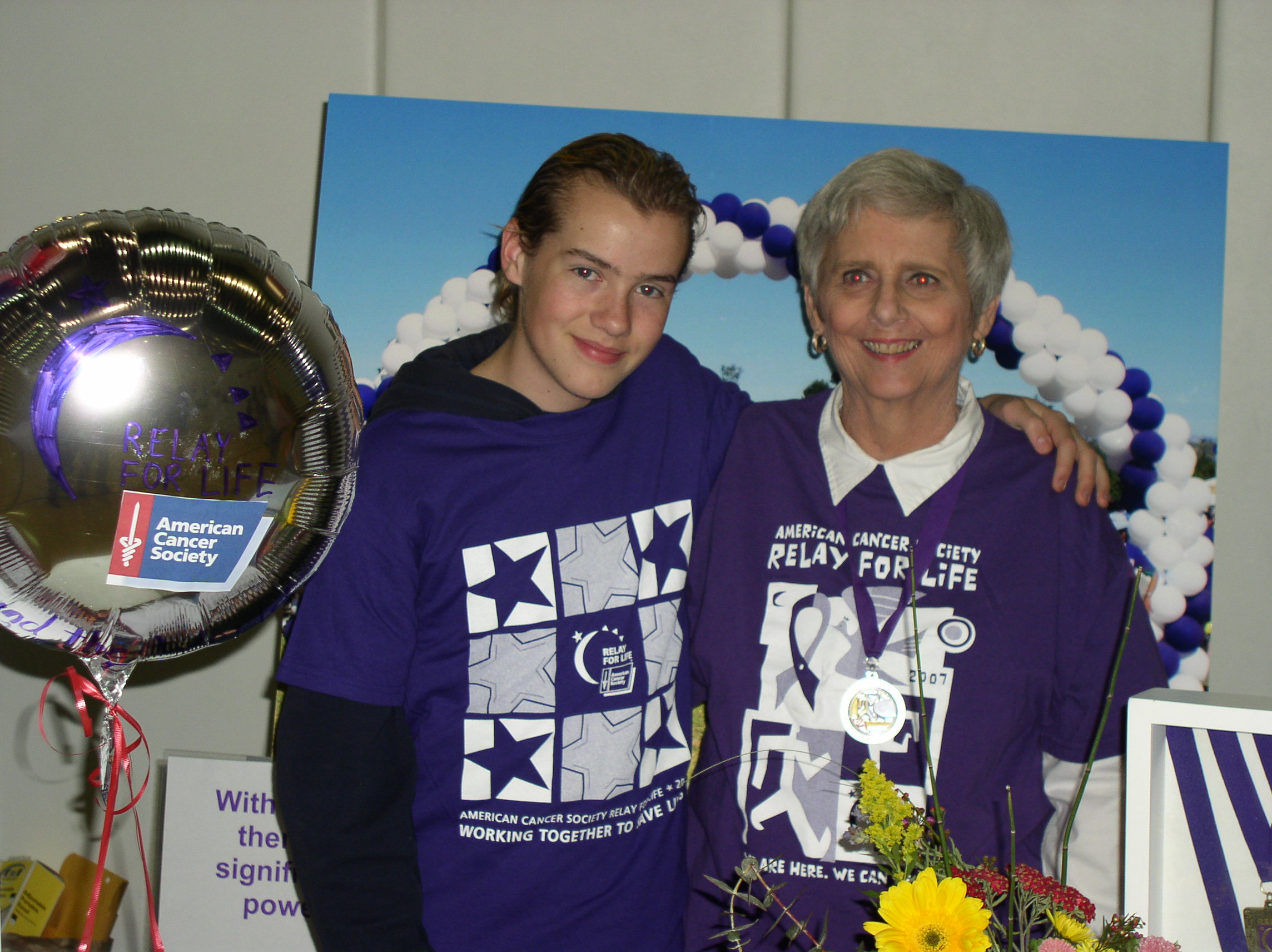 Nathan and Darrellyn, Relay Kickoff, March 2008
---
Susan Pearsall, Captain's Council
"The SCV Relay for Life event has lost a dedicated supporter and loyal friend with Darrellyn's passing. I remember being in awe of Darrellyn's enthusiasm at Captains' meetings about putting together the 2008 Survivor Village. Her first concern was for letting the survivors know just how special they are to this event. I think that for the past 2 years her "mission" has been accomplished ... and survivor village will continue to be a very honored part of the SCV RFL event that it deserves to be."

"To Les and family, my deepest sympathy to your family. Our thoughts and prayers are with you."
---
Jack & Sandy Worth, Relay Friends
I met Darrellyn at a Relay meeting and liked her immediately, how could you NOT like Darrellyn. She was open, honest and didnít hesitate to tell you exactly what she was thinking; I loved that about her. We shared, only briefly, our similar cancer experiences and immediately went on to the best part of our lives Ö our families. Thank you Les for sharing her with us. Our thoughts and condolences are with you.